INNOVATIVE RESIDENTIAL & COMMERCIAL
Comfort Solutions in Lynnwood, WA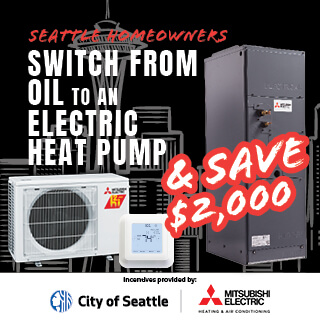 CREATING THE MORE COMFORTABLE SPACE YOU DESERVE


Our team treats your home as if it were our own. From custom-designed systems to homegrown HVAC solutions, we deliver personalized and dependable services every time. Because of this, opening your door to us is the surefire way to transform your house into a happy and cozy indoor oasis. Plus, with our home automation services, controlling your comfort—and every other appliance you own—has never been easier. Under our care, there's truly no place like home.


A commercial space should feel warm (or cool) and friendly as soon as someone steps foot in the door. This welcoming environment, in turn, leads to greater business success. So, to secure a more fruitful future for your company, trust us to turn your space into one that will make every customer or employee feel right at home, right away. Plus, we'll help you do smarter business—literally—with our building automation services.


The safest place to be is inside—or is it? From homes to businesses, indoor air is filled with harmful contaminants that are detrimental to your wellbeing. But there's no reason to hold your breath with us on your side. Our indoor air quality solutions will help you take control of your residential or commercial environment by closing the door on poor air quality for good. It's time for you to send those unwanted intruders packing.
Why Choose Innovative Comfort?
WE'RE THE CUSTOMER-FOCUSED TEAM THAT LYNNWOOD RESIDENTS TRUST
At Innovative Comfort, we value integrity. Because of this, we aren't your typical HVAC technicians. Rather, we're superior craftsmen who are hard working, honest, ethical and passionate about our profession. This means, with us on your side, unwavering comfort is a guarantee.Unlike our competitors, we truly care about keeping our customers satisfied. Because of this, we offer innovative, custom-designed systems that are guaranteed to fit your space perfectly and exceed your comfort expectations for years to come. We give you our word. Plus, to further put your mind at ease, we offer a lifetime workmanship warranty. Essentially, if we install a system in your home and, due to poor workmanship, your system falls apart, leaks or develops other specific problems, we will return and fix it for free—regardless of its age. That's how confident we are in the quality of our craftsmanship.The service and care our team delivers are a difference you can feel—literally.
Satisfied Clients
SEE WHY YOUR NEIGHBORS KEEP KNOCKING ON THE DOOR.
"Absolutely amazing customer service. I needed my gas furnace serviced and inspected on short notice. A technician, John, was at my home within 24 hours of my call to Innovative. He was thorough, knowledgeable, and very professional. He answered my questions and addressed my concerns clearly and completely. He knows his stuff! The fee was quite reasonable. I could not be more satisfied. So refreshing after some really bad south Snohomish HVAC contractor experiences in the past. Thanks!"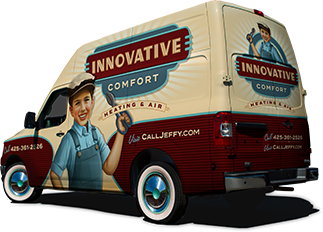 Take The Next Step
Contact Innovative Comfort Today.
MAIL
19502-56th Ave West,
Suite 101
Lynnwood, WA 98036
EMAIL
office@calljeffy.com