SERVICE MAINTENANCE PROGRAM
Looking for Serenity or Savings? We Give You Both!
When it comes to keeping your home cozy, no one ever said it would be easy. They just said it would be worth it.
Well, Innovative Comfort's HVAC maintenance program has changed the rules. We're helping our customers attain a cozy home with ease.
SO, YOU WANT TO ATTAIN A COZY HOME?
Your home's comfort goes hand-in-hand with your cooling or heating system's performance. It takes a healthy unit that's operating at its best to meet your comfort demands. On the other hand, an unhealthy system can deliver its best performance and it still won't be enough to keep your home comfortable.
So ask yourself this: "Am I doing all that I can to keep my system healthy? Or am I leaving my HVAC unit to fend for itself?"
Before you can answer this truthfully, here's what you need to know.
WHY THEY SAY IT WON'T BE EASY
Though your HVAC unit is resilient, it's not indestructible. Problems are bound to arise.
Unfortunately, from feeling a bit under the weather to being on the brink of a breakdown, your system can't fix itself. That responsibility falls on your shoulders—and it's crucial that you follow through with this obligation. Leaving a problem unresolved gives it room to grow into a more complicated and costly issue.
But, you can stop your budget and your comfort from facing this catastrophe by giving your system the attention it needs. Here's what you should do:
Keep an eye on your system's performance. If you notice your unit is out of line, contact Innovative Comfort's team right away. This results in a quick fix rather than a complicated (and costly) repair.
Schedule the maintenance your system needs. Our air conditioning and heating maintenance service is designed to catch problems before your family, your comfort and your utility bills feel their presence. Even better, through frequent and thorough system inspections, you can avoid problems altogether.
WHY IT'S WORTH IT
Staying on top of your system's wellbeing may be a lot of work, but there's no doubt that it's worthwhile.
Keeping your comfort system in tip-top shape:
Lowers your monthly energy bills
Expands your unit's lifespan
Reduces the potential for costly repairs
Increases your system's efficiency
Delivers more powerful, consistent comfort from room to room
HOW WE MAKE IT EASIER
 

AND

 

WORTH IT

Our HVAC maintenance program takes our air conditioning and heating maintenance services to the next level.

By participating in our HVAC maintenance program, your system receives the in-depth TLC it needs to continue performing at its best. But now, you receive tremendous savings on top of your endless comfort.

We guarantee this program will serve you well. However, if at any time you aren't satisfied, you can cancel your membership and we will refund the rest of your investment right away. It's the safest (and most beneficial) investment you'll ever make!

Here's what else you'll love about this program.
If You Hate Comfort Loss Headaches…
Then you'll love the peace of mind this program brings. By taking care of your equipment regularly, our team can spot signs of premature wear or damage, which stops large repairs and system breakdowns from occurring. The best part about this is that preventing one major repair will pay for many years of cost effective maintenance.
If You Hate Coming in Second…
Then you'll love that, with this program's priority emergency service, you come first. As an example, let's say you and another customer call for immediate service at the same time. Since you're a member of our program, we take care of you first. There are no ifs, ands or buts about it!
If You Hate Getting Off Track…
Then you'll love that our team keeps your equipment's maintenance schedule on course. You see, our office keeps track of your equipment's service records, warranty and recall information for you. Then, when it's time for your system to receive the professional checkup and safety inspection it needs, we will contact you and remind you to schedule an appointment.
If You Hate Opening High Bills…
Then you'll love having lower utility bills. A system that's cared for runs more efficiently, uses less energy while operating and doesn't have to work as hard to meet your comfort demands. This leads to unbeatable comfort and, more importantly, lower utility bills. That's a win-win.
If You Hate Paying Full Price for Services…
Then you'll love this program's discounts. Depending on the plan you choose, you can receive up to 15 percent off any repairs, parts and system enhancements (excludes any new installations).
IT'S DECISION TIME
Whether you're on the fence about enrolling or you aren't sure which plan to choose, we're here to facilitate your decision. We've laid out our three maintenance plan options, side by side, in the chart below to help guide you toward the plan that's right for you and your equipment.
If you have any questions, feel free to contact us online or give us a call at 425.361.2526 today!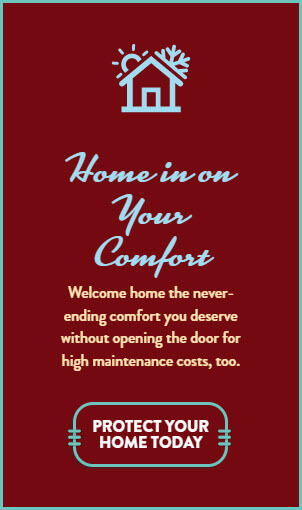 Take The Next Step
Contact Innovative Comfort Today.
MAIL
19502-56th Ave West, Suite 101
Lynnwood, WA 98036
EMAIL
office@calljeffy.com