COMMERCIAL HEATING & COOLING
Your Comfort Game Plan
You take pride in running a successful business, but you know all too well that success doesn't come without careful planning and hard work. You're a firm believer in setting ambitious goals, establishing high standards and working tirelessly to keep everything running smoothly.
With that being said, here are three of the golden rules of success: 1) The customer is always right; 2) Working overtime is sometimes necessary to get the job done right; and 3) Keeping your indoor space comfortable is a must—from open to close.
Well, thanks to Innovative Comfort's commercial HVAC services, you'll never have to worry about your indoor environment. Winter, spring, summer and fall, here's how our team has your comfort covered through them all.
KEEP YOUR CUSTOMERS COOL, CALM & COMING BACK
A stuffy, uncomfortable space is bad for business during the summer. It sends the message to your employees and customers that their comfort is not your priority. Unfortunately, this hot and sticky inconvenience has a large impact on your company's success.
You see, after facing the sizzling hot temperatures outside, customers expect chilled relief the second they step foot in your building. So, if your space fails to deliver on this expectation, it'll negatively impact how your business is perceived. Plus, uncomfortable working conditions can adversely affect your employees' productivity.
In short, your commercial space's comfort can make or break your reputation and your future success. But put your worries on ice. Innovative Comfort offers the big cooling solution your large space needs.
Using their expertise, our professionals will help you find the right commercial air conditioner for your building. This is a cooling system that's the right size and delivers precise chilled relief that meets—and then exceeds—your contentment demands.
After you choose the right commercial air conditioner for you, our expert technicians will install your unit flawlessly. Then, by delivering swift repairs and thorough inspections, we'll keep your commercial air conditioner operating soundly for countless seasons to come.
Our commercial air conditioning services guarantee your customers will be cool and content as soon as they open your door. But for you, this dependable and everlasting comfort leads to peace of mind—and that's priceless.
COOL BUSINESSES GO DUCT FREE
Before you choose a cooling system, consider a ductless mini-split AC unit. With flexibility in its zoning capabilities, installing a mini split in your commercial space gives you more control over which areas you want to cool. Plus, it allows you to attain the chilled relief your employees, residents or customers crave, but in a more efficient and affordable manner. This, in turn, increases your space's energy efficiency and saves you money on your energy bills every month.
A unit that delivers a higher level of comfort for your space and your budget?  Now that's an all-around win!
FIRE UP YOUR SPACE'S COZINESS & YOUR BUSINESS'S SUCCESS
If your commercial space gives your customers or employees the cold shoulder, expect them to give it right back. So, with winter's frigid weather being un-brr-lievably cold, it's crucial that you keep your commercial space cozy and warm—no matter what.
Thankfully, Innovative Comfort has the perfect commercial heating system for you. This is a unit that's the right size and has enough power to fill your large space with warmth—from ceiling to floor.
But there's no need to stress over choosing the right system. We're here to help. Using their expertise, our professionals will thoroughly examine your building's layout and your business's comfort demands. From there, we'll review our findings to recommend the best heating solution for you and install whichever system you choose faultlessly. Then, through our quick yet reliable repairs and in-depth heating maintenance services, our team will help you keep your commercial system running as well as it did on installation day—year after year.
GIVE COMFORT LOSS THE PINK SLIP
From a commercial heating system to a commercial air conditioner, operating a unit that's the right size and installed correctly will:
Increase your energy efficiency
Deliver consistent warmth to every area of your space
Decrease energy bills and operating costs
Extend your HVAC unit's lifespan
Eliminate costly repairs and breakdowns
Foster a more comfortable and happier working environment
Take the Comfortable Route to Success
Preparing your commercial space for whatever temperatures Mother Nature throws its way is the surefire way to keep your business ahead of the curve. So, to secure your space's comfort and your company's future, fill out our online form or call us at 425.361.2526 today!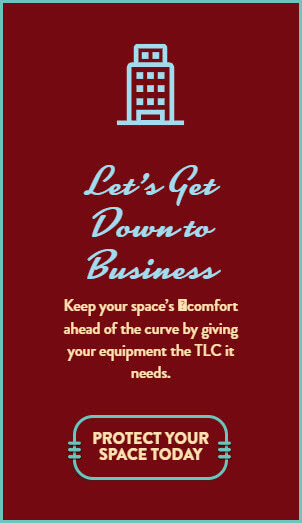 Take The Next Step
Contact Innovative Comfort Today.
MAIL
19502-56th Ave West, Suite 101
Lynnwood, WA 98036
EMAIL
office@calljeffy.com